← Back to Healthcare Access
Raleigh, N.C. – The NC Navigator Consortium welcomes the start of Open Enrollment for the Health Insurance Marketplace® at HealthCare.gov with an updated website to help North Carolina residents get covered at NCNavigator.net. While Open Enrollment lasts until Jan. 15, 2023, the NC Navigator Consortium's statewide network of health insurance Navigators work year-round to answer questions about health coverage, help consumers update their HealthCare.gov policies and enroll in new ones after qualifying life events. To that end, the upgraded NCNavigator.net makes it easier to connect consumers with the information they need, and access to the free, unbiased help finding quality, affordable coverage they have come to trust.
Open Enrollment for HealthCare.gov Marketplace coverage will not end until Jan. 15, 2023, but those who need coverage starting Jan. 1, 2023, will need to apply by Dec. 15, 2022. The NC Navigator Consortium's federally qualified health insurance Navigators are available by free appointments (by phone, in person or virtually) to provide local help to consumers needing to apply for or update their Marketplace coverage. Appointments may be scheduled online by calling 1-855-733-3711 or online at NCNavigator.net.
Designed and developed by Kelso Communications and J.D. Ledford of 18 Stone Design, the new NCNavigator.net features FAQs and resources to educate consumers on the importance of health insurance, the difference between HealthCare.gov and Medicaid/CHIP and more. The site also features important updates such as next steps for Bright Health policyholders following the termination of their policies, and those who may be impacted by the end of the family glitch which makes it possible for families to purchase coverage other than employer-sponsored health insurance.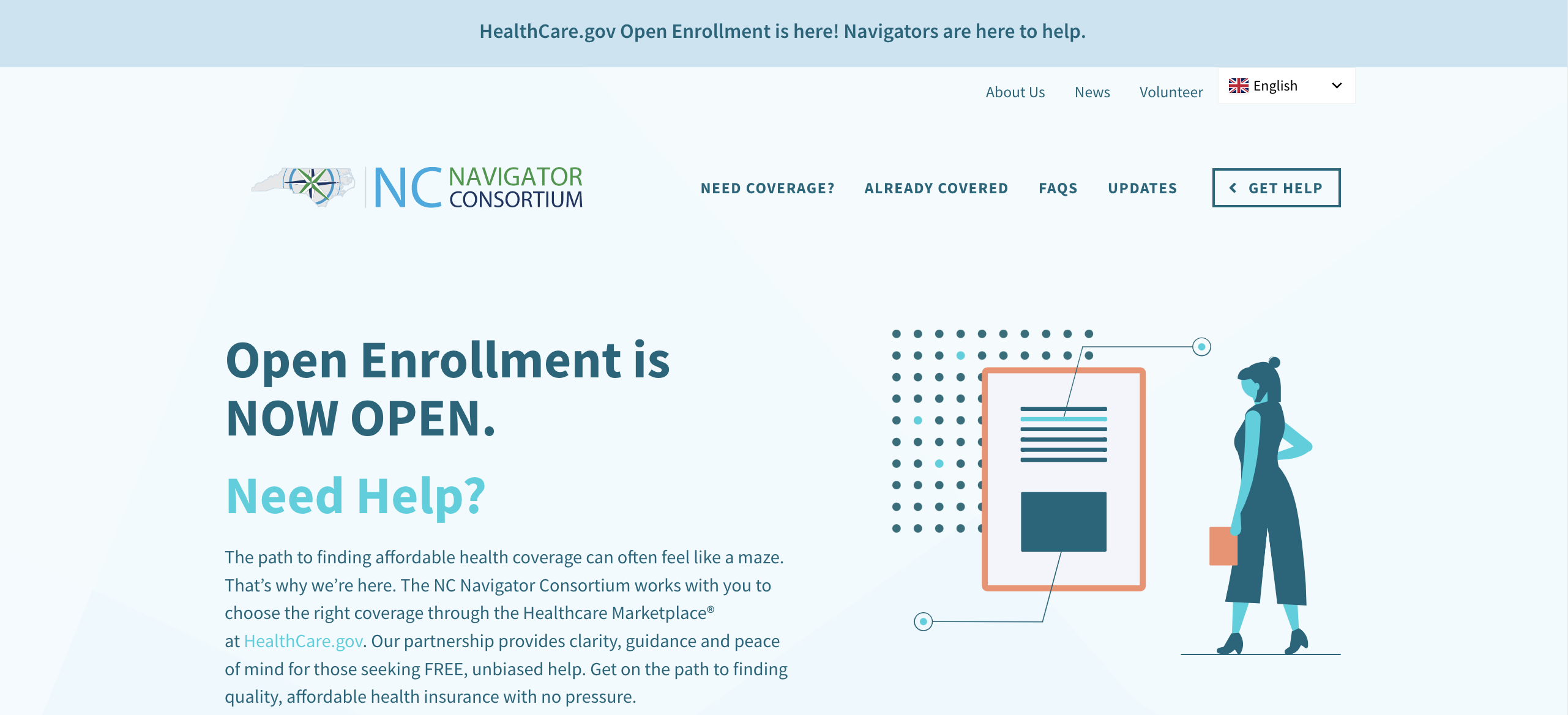 "The service we provide is even more critical now the family glitch has been fixed, making millions more eligible for coverage on the HealthCare.gov Marketplace," said Mark Van Arnam, director of the NC Navigator Consortium, who added that coverage has never been more affordable. "Thanks to tax credits and subsidies made possible by the Inflation Reduction Act, four out of five enrollees are getting covered for $10 or less."
The NC Navigator Consortium connects consumers to qualified health plans that provide essential health benefits and preventive care, in addition to mental health care, ER care and maternity coverage, not limited by caps or pre-existing conditions. Health insurance Navigators help North Carolinians maximize their coverage by:
Taking time with them to help avoid mistakes
Showing all options, ensuring their providers are in-network
Explaining terminology and processes, increasing health insurance literacy
Assisting them with estimating their income for the year ahead, one of the most difficult parts of the HealthCare.gov application process
The NC Navigator Consortium is the only federally funded entity of its kind in North Carolina, supported in part by the Centers for Medicare & Medicaid Services. Learn more at NCNavigator.net, and follow on Facebook, Twitter and Instagram. Members of the Consortium are Access East, Charlotte Center for Legal Advocacy, Council on Aging of Buncombe County, Cumberland HealthNET, HealthCare Access, HealthNet Gaston, Kintegra Health, NC FIELD and Pisgah Legal Services. The Consortium is led by Legal Aid of North Carolina.
Legal Aid of North Carolina is a statewide, nonprofit law firm that provides free legal services in civil matters to low-income people in order to ensure equal access to justice and to remove legal barriers to economic opportunity. Learn more at legalaidnc.org and follow on Facebook, Twitter, Instagram, LinkedIn and YouTube.
###
The project described was supported by Funding Opportunity number NAVCA210405-02-00 from the Centers for Medicare and Medicaid Services. The contents provided are solely the responsibility of the authors and do not necessarily represent the official views of HHS or any of its agencies.